ABC Economic Update: Shifts in consumer behaviour and implications for business and policy
August 27 @ 3:00 pm

-

5:00 pm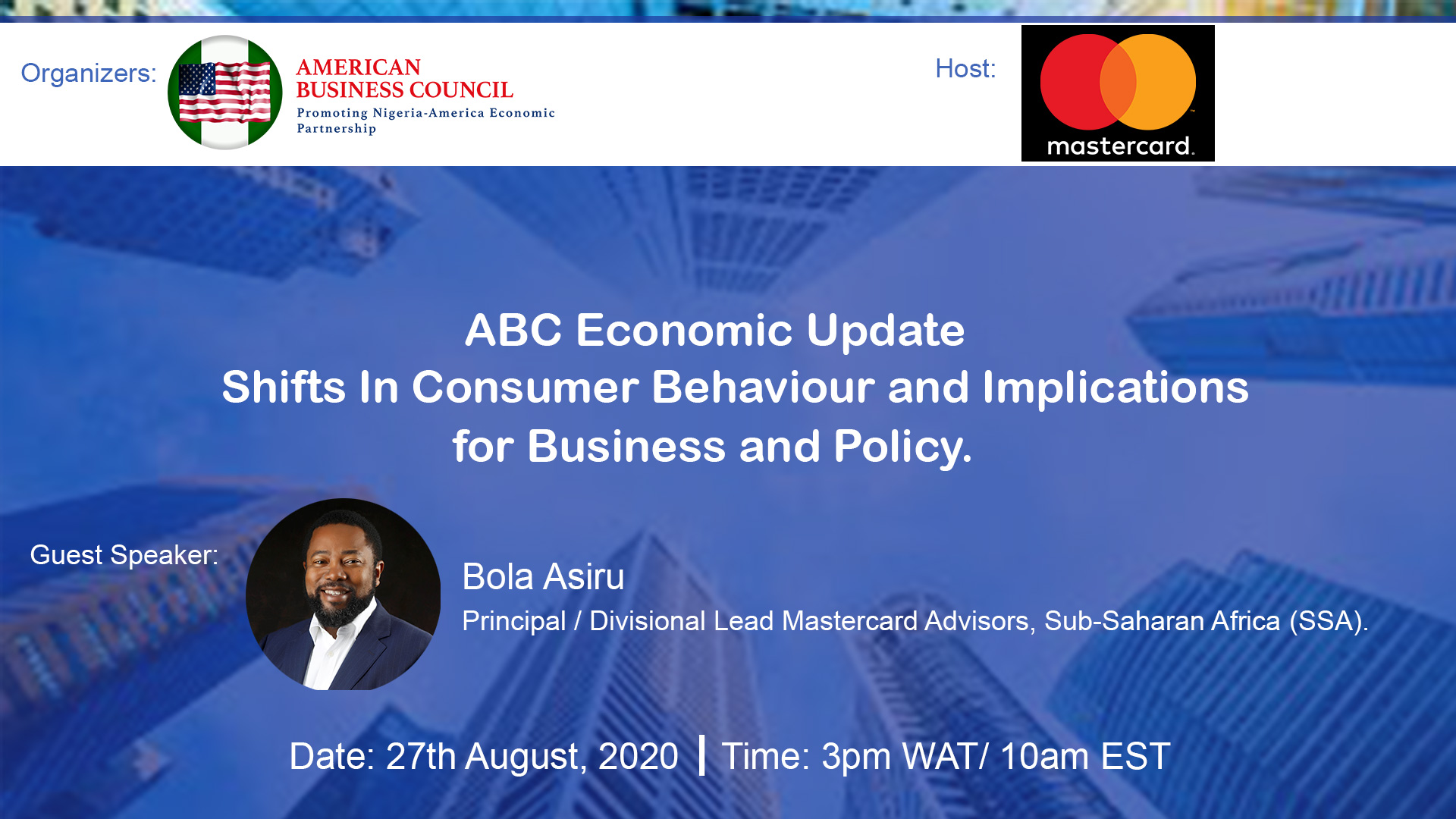 The American Business Council in partnership with MasterCard, held a webinar on the 27th of August to share insights on consumer preferences and behaviour in response to COVID-19.
At the webinar, Bola Asiru, Principal / Divisional Lead MasterCard Advisors, Sub-Saharan Africa shared that due to the pandemic, there has been clear shift in consumer behaviour; a shift to digital payments stemming from the hygiene concerns around cash, a rise in ecommerce transactions and a growing dependence on internet connectivity for both work and lifestyle needs. To stay ahead, businesses need to add value to evolving consumer needs.
As consumers shift to cashless payments, there has been a positive growth for financial services. For example, POS transaction volume and value reached a 4 year high with N416Bn of transactions in July, mobile transactions (interscheme) value also reached a 4 year high at N275bn of transactions, and also the use of Digital & Mobile platforms has had a positive growth impact on the telecoms sector.
Other sectors with improved growth in Q2 in response to changing consumer behaviour include, healthcare, pharmaceuticals, broadcasting and courier services.
On policy making, Bola stated that policies & guidelines must be consistent and reflect the shift in consumer environment and there should be improved engagement from Policy makers to leverage on private sector insights on consumer behaviour to shaping policies that will enhance consumer experience.
For more information on the presentation click here.