A General Meeting of US Companies doing business in Nigeria in May 2005, unanimously endorsed the need for an American Business Council (ABC) which , operating like a 'think tank', will focus on policy issues and practical implementation steps in support of Nigerian public and private section leadership as well as ongoing reform initiatives in the country. It is designed to bring ABC's Nigerian based resources combined with the US support, to bear on selected issues and reform initiatives that show potential Read more...
Latest News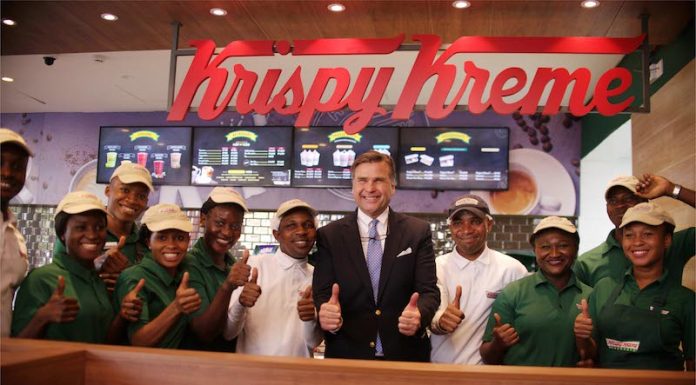 US Envoy Lauds Krispy Kreme's Quality Production Process
ABC VISITS AmCham Ghana
The CEO/Executive Secretary of the American Business Council met with the Executive Secretary of the American Chamber of Commerce, Ghana, Simon Madjie in Ghana. The objective of the meeting is to converse and harness resources in strengthening the AmChams in West Africa, engage Governments to improve the business environment and promote the region as the best place for U.S FDI. The meeting held on the 9th of August, 2018.
Ease of Doing Business
Nigeria Automates Processing Of Business Permits And Expatriate Quota
The 3rd National Action Plan on Ease of Doing Business to kick off February 5th
Improving Nigeria's Business Operating Environment to Enhance Economic Growth
Latest Events
The American Business Council with its members held a dialogue with the US Ambassador Stuart W. Symington on the 20th of September to discuss the political landscape and share perspectives on the upcoming 2019 elections.
The dialogue is a first in a series of dialogues with the ABC and US companies as we get closer to the first quarter of 2019
Stakeholders, US Envoys Discuss Solutions Piracy In Nigeria | Channels Book Club.
The Regulatory Committee of the Commercial Investment Dialogue recently held its workshop on the 30th of August at the George Hotel. The objective is to discuss the regulatory challenges, identify new opportunities and provide mechanisms that will allow respective public and private sectors to work together on critical issues hindering bilateral trade and investment between the US and Nigeria. The program was well attended by domestic and multinational corporations in Nigeria across sectors.
The workshop was kindly sponsored by Kimberly Clark and Africa Capital Alliance.