IMFs Article IV on Nigeria
March 23 @ 8:00 am

-

5:00 pm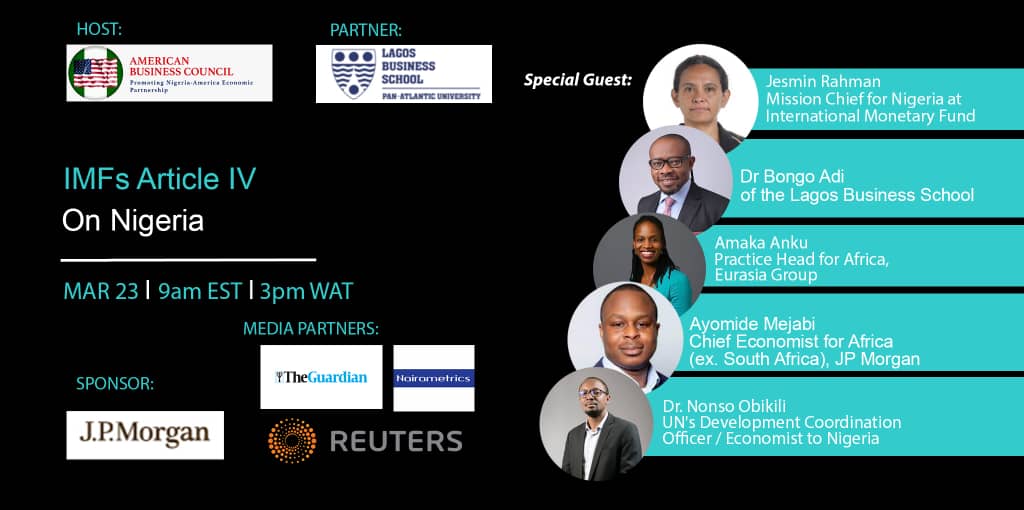 The Nigerian economy is at a critical juncture. The International Monetary Fund (IMF) Article IV Consultation on Nigeria projects that Nigeria's fiscal balance is estimated to increase considerably. More specifically, general government deficit is projected to widen from 4.8 to 5.9 percent of GDP between 2019 and 2020. The increase in government general deficit can be attributed to sharp revenue declines occasioned by the pandemic.
Although revenue could increase given the increase in the Value Added Tax (VAT) rate from 5 to 7.5 percent in 2020, and expenditure savings from the removal of power sector and fuel subsidies, the concurrent increase in expenditure related to COVID-19 emergency support will drive the widening fiscal deficit. However, as domestic activities recover to pre-COVID levels and spending on household and businesses vulnerable to the pandemic tapers down, the fiscal deficit is projected to narrow in 2021.
Please join the American Business Council in partnership with the Lagos Business School for a joint public event scheduled for the 23rd of March at 3pm WAT discussing key findings and recommendations to chart the way forward for the Nigerian Economy.
The webinar will highlight the following objectives:
Discuss how Nigeria should achieve a unified exchange rate despite the global economic outlook.
Raising more revenue – to increase taxes or increase the tax net.
Identifying the low hanging fruits or quick wins from Nigeria's diversification projects and plans.
Highlighting the transparency reforms on monitoring and reporting of all public spending, as well as ensuring easy public access to spending data.
Nonso Obikili Development Coordination Officer – Economist at UN Nigeria will moderate a conversation with Jesmin Rahman IMF Mission Chief to Nigeria, Amaka Anku Practice Head for Africa at Eurasia Group, JP Morgan's Chief Economist for Africa (excluding South Africa) Ayomide Mejabi, and Dr. Bongo Adi of the Lagos Business School.