Upstream Sector of Oil and Gas Industry
November 18, 2021 @ 8:00 am

-

November 19, 2021 @ 5:00 pm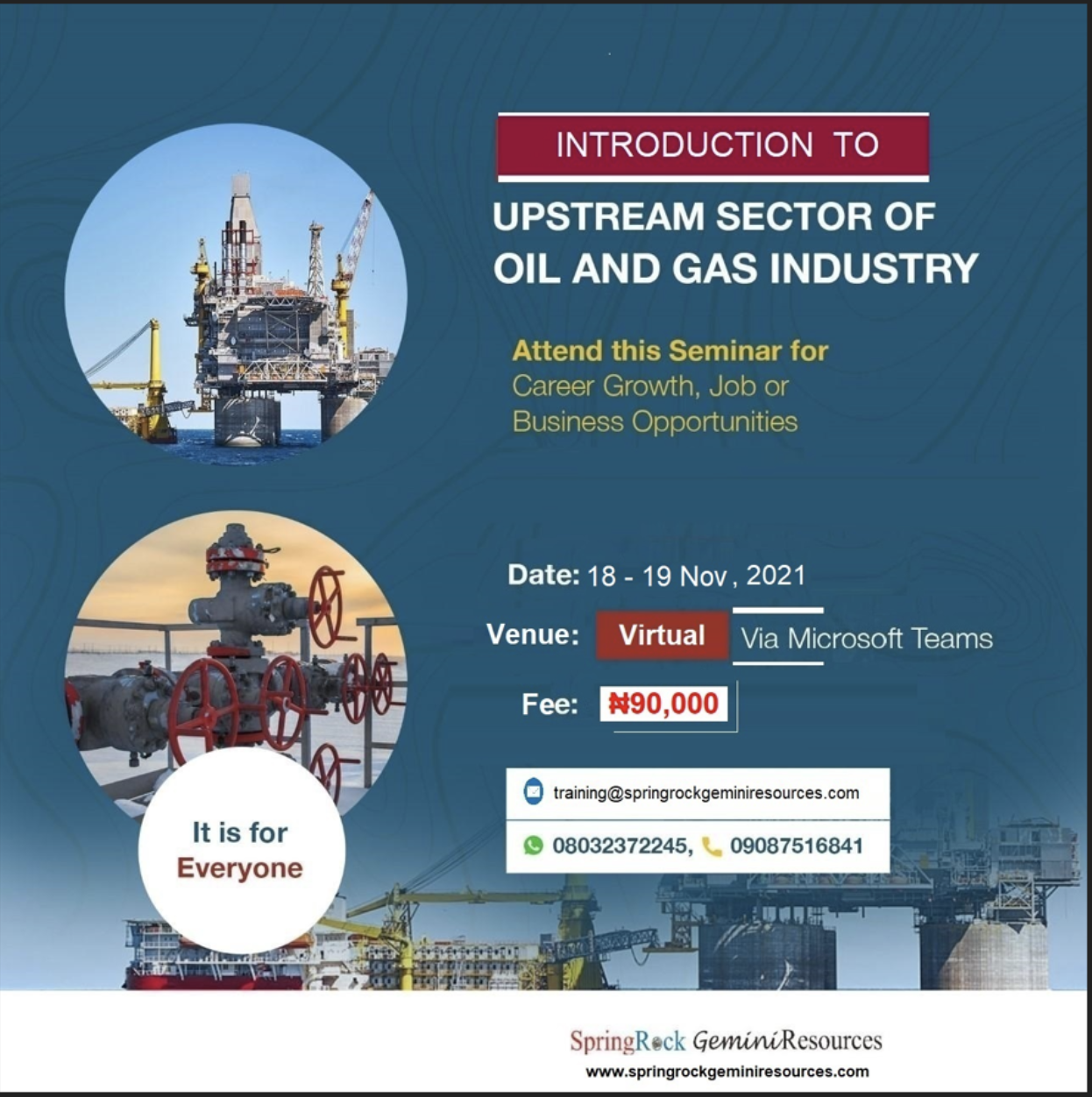 Oil and Gas Industry is still the most important sector to Nigeria today, driving and sustaining its economy. The industry provides wide-ranging opportunities to all categories of people that are waiting to be tapped into, irrespective of your discipline, background or business leaning.
Therefore, this 2-day seminar by SpringRock Gemini Resources, titled "INTRODUCTION TO UPSTREAM OIL AND GAS INDUSTRY" is highly recommended for everyone. Please do try and attend.
It is a well-structured, informative, and multi-discipline seminar that gives an essential and deep insight into the Upstream Sector of the Oil and Gas Industry, noting that the Oil and Gas Industry is still very critical to the Nigerian economy.
Participants will be exposed to all the phases of activities in the Sector with specific emphasis on actions they can take to align themselves for value creation, career growth, job, and business opportunities. Also, they would be familiarized with the important and key elements of the recently enacted Petroleum Industry Act (PIA).
This seminar is for EVERYONE. So, whatever your educational background and business leaning, this seminar provides an excellent platform to enhance your awareness and knowledge thereby placing you at a competitive advantage to be productively engaged either as a new entrant or an existing Industry professional.
Date: Nov 18 – 19 2021
Venue: Live virtual and engaging sessions via Microsoft Teams</strong>
<bold>Fee: ₦90,000</bold>
For more information, please click here or email training@springrockgeminiresources.com or
call/WhatsApp +234 803 237 2245. Thank you for your interest and SPRINGROCK looks forward to
welcoming you.
To make your reservation for the seminar now, please click here.
SpringRock Gemini Resources is a member of the SpringRock Group (www.springrockgroup.com) ,
a privately held company that operates and offers services covering the entire value chain of the
upstream sector of oil and gas industry.