VIRTUAL LUNCHEON IN HONOUR OF MS JESMIN RAHMAN IMFMISSION CHIEF TO NIGERIA
July 24 @ 8:00 am

-

5:00 pm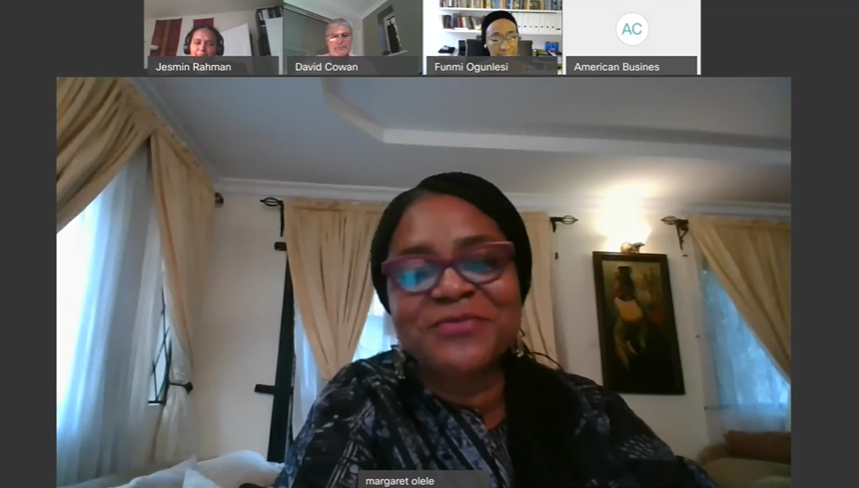 The American Business Council held a Virtual Luncheon in honour of Ms Jesmin Rahman the International Monetary Fund (IMF) Mission Chief and Senior Resident Representative for Nigeria.
Ms Jesmin Rahman stated that the Nigerian government must improve tax collection because revenue is lower than the minimum amount required for the state to play an enabling role in the economy and that Raising taxes at this time is inappropriate due to the impact of the coronavirus pandemic. The government also needs to play a supportive role until the current crisis ends, when mobilizing domestic revenue will be a key pillar of macroeconomic sustainability, she said.
At the media briefing the CEO/Executive Secretary of the American Business Council, Ms. Margaret Olele stated that the private sector have business concerns around the Foreign Exchange Volatility & Restriction as they have extreme impact especially among multinational companies for reasons like importation and capital repatriation. Forex restrictions also affects localization as this has to be effective when there is capacity for example the dairy sector, ICT. Others include, regulatory concerns such as tax laws, multiple tax laws, IP laws, impact on supply chain concerns especially in the manufacturing sector, and Fiscal & Monetary concerns.
Ms Rahman also noted that Nigeria's debt level itself is not a concern for sustainability, but it's servicing capacity is severely constrained and requires a close watch.
The event was hosted by The American Business Council (ABC) and powered by Citibank Nigeria Limited (Citi).
You can find the IMF Report here and you can watch the highlights here