CAPACITY BUILDING FOR MEDIA ON COUNTERFEIT AND ILICIT TRADE REPORTING
October 28, 2020 @ 8:00 am

-

5:00 pm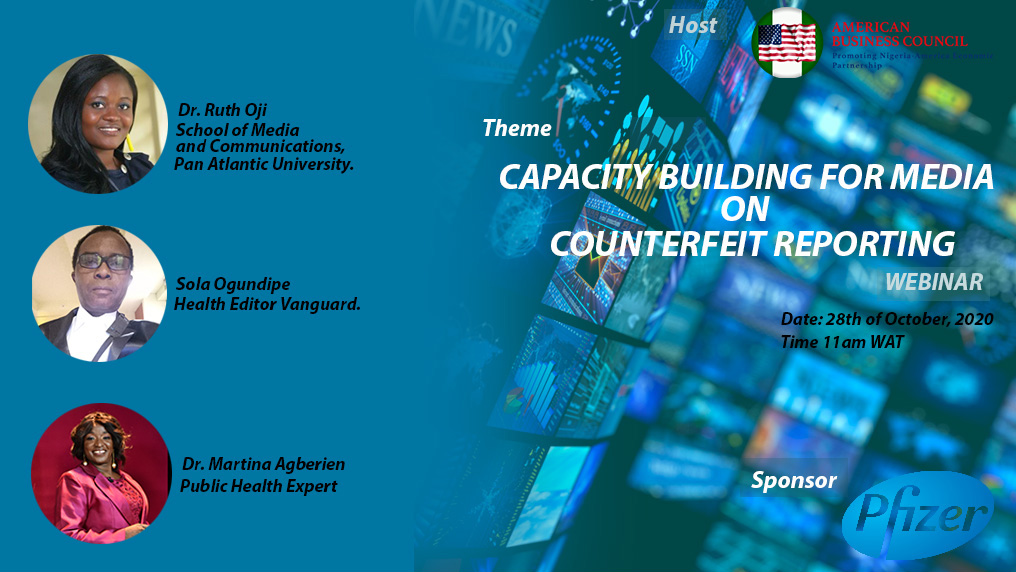 The American Business Council in partnership with Pfizer Specialties Limited organised a capacity building initiative curated specifically for the media on the 28th of October, 2020.
The programme highlighted the role of media writers in the fight against counterfeits and illicit trade in Nigeria and how in turn supports the initiatives of NAFDAC, Customs, The Police Force, Ministry of Justice and the US Department of Justice as well as to the Nigerian economy and its citizens.
Counterfeiting and illicit trade affects the economy of every nation especially in a time where healthcare institutions are of critical need of which the American Business Council and its partners find the media relevant in the fight against illicit trade and counterfeiting.
The training involved experts from various sectors of the economy sharing insights on media reporting, how to collaborate with relevant agencies and best practices that fit the market.
Building Your Brand As A Reporter – Dr. Ruth Oji